How to get to the conference venue
CONFERENCE VENUE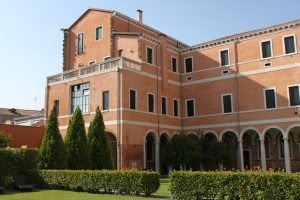 Centro culturale Don Orione Artigianelli
Zattere Dorsoduro 909/A – 30123 Venezia – Tel +39 041.522.4077 – fax +39 041.528.6214 – info@donorione-venezia.it
HOW TO GET TO THE CONFERENCE VENUE
BY AIRPLANE
For participants arriving by Airplane at Marco Polo Airport.
Passengers arriving at Marco Polo International airport can reach Venice  either by sea or by land.
In general, one's   final destination in the city can help to choose the more convenient  and time saving way.
In the case of  Phlebology, whose venue is near the "Zattere" water stop,  both ways can be considered.
The Alilaguna ferry, is the water connection from the airport to the main areas of Venice, leaving every hour. It takes about one hour and 40 minutes, with the blue line to get to the Zattere , along a route which sails across the Northern lagoon.
Tickets  can be bought at the Alilaguna desk in the arrival lounge, or on line at www.alilaguna.it, where you can find more detailed information on lines and timetables.
You can also use the local service buses and ferries (www.actv.it): take the bus nr. 5, or a car taxi, and get to P.le Roma. Then you have to board the line 2 ferry or the faster lines 5.1 or 6,  getting  off at the "Zattere" stop.
BY TRAIN OR BY CAR
For participants arriving in different areas of the city (by train at Santa Lucia railway station, or by car at Tronchetto Parking area or at Piazzale Roma)
From Santa Lucia  station you can take the same line 2 ferry towards Giudecca or the faster lines  5.1 or 6 towards Lido, getting off at  the  "Zattere".
If you arrive by car, you can park either  at Tronchetto island or  in P.le Roma garages.  More information and booking opportunities at  www.veniceparking.it .
From both places  you can take the same line 2 ferry towards Giudecca or the faster lines  5.1 or 6 towards Lido, getting off at  the  "Zattere".
WATER TAXIS
Water taxis (expensive) are also available day and night from all arrival points and they can get you straight to your destinations. Many hotels have private piers that taxis can reach directly
HOTEL ACCOMMODATION
September is high season in Venice and we recommend you to book as far in advance as possible to secure a room at a good rate.
Request of Hotel Accommodation
Some hotel rooms at special Conference rates have been pre-booked and special arrangements are being made by the logistic secretariat with a number of hotels, both in the in the vicinity of the Venue and in other nice areas of the city.
In order to secure accommodation suiting your needs and wishes, please email us on info@congressvenezia.it with specification of arrival and departure dates, type of room needed (single room, double room, number of occupants) and we'll send you information on availability and rates so as to allow you to complete the reservation procedure.